FC Track sprints to the last 100 meters the finish line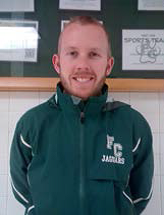 You must be wondering why the Falls Church Indoor Track team now has so many coaches. The reason is because the coaches have a new vision for the program. They want students to be able to pursue their interests instead of being forced on run if it is not their desire or forte. If someone is good at jumping but running is their weakness, they could still join because the coaches are specialized for that specific position. During practices many different events can be worked on or athletes can work on their personalized strength and conditioning programs.
What's new for the track team? What is the difference from last year and this year? A lot of people are wondering what is going on with the track team because they lost a lot of coaches. I talked to Mr. Krause to see if there are new things about the team. He mentioned that there are four new coaches that just joined the FCHS Track team and that is all part of their plan to transform FC track.
Coach Bobby Krause is beginning his first season as head coach of the Falls Church Track and Field teams. Previously Coach Krause served as assistant track & field coach and head cross country coach. Originally from Long Island, New York, Coach Krause competed at Connetquot High School for the Boys Cross Country and Track teams where he was a five letter winner in cross country and track and field, 12-time league champion, four-time county champion and two-time all-state selection. Coach Krause is currently a member of the faculty at Falls Church High School as an Assistant Director of Student Activities as well as a Health and Physical Education Teacher.
Another coach is Mr. Dwayne Scott who was a JV head coach of football. He is in charge of sprints and horizontal jumps. He has been coaching ten years in Fairfax County Public Schools. His journey has included championships in the Liberty District, Concorde District, National District, and the Northern Region. He has coached many district and regional championships during indoor and outdoor seasons. He has also worked with all hurdles events. He says "My best long jumper placed third in states with a '24' plus foot jump!"
The second one is Mr. Matthew Wingler he is in charge of strength, conditioning, and injury prevention. After graduating from Lakota High School in Cincinnati, OH, he went to school at Miami University in Ohio, completing a degree in education. After teaching at a private school, he received his master's degree from The George Washington University, with a degree in Exercise Science. Coach Wingler is looking forward to working with the track athletes for the upcoming season.
The third one is Ms. Sarah Garrett she's in charge of high jump. She was a 5 ft 8 jumper. The last one is Ms. Mandissa Marshal, she's in charge with the pulls volt. She was in George Mason last year. Her record in pole vault was 14ft.
Last year the Falls Church Jaguars had many firsts but this year it will truly be the beginning of a 100 meter sprint. Good luck coaches and athletes!