Obama Dazzles at the State of the Union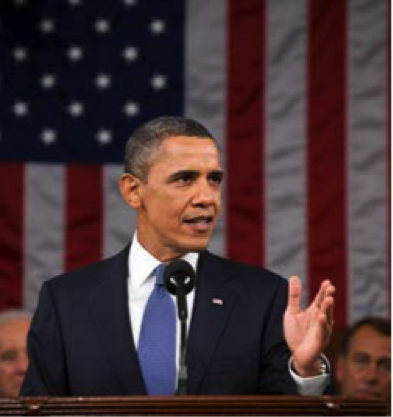 On January 20, 2015, President Barack Obama fascinated millions with his captivating State Of The Union address. For those of you who did not watch it, The Washington Post has uploaded the entire event on its YouTube channel and it really is worth the watch. President Obama spoke words that night that touched the minds and hearts of millions of Americans. His speech was not only filled with fact, but also tons of emotions and a few zingers as well.
He started the night off by mentioning the story of Rebekah and Ben, a family that had written a letter to Obama about their lives and what they wanted done in order to make the lives of millions of Americans easier. The story connected to millions because it was the story of millions. It was the story of being a working parent and the struggles they faced when the economy went bad. It was the story of parents who have to work two or more jobs in order to put food on the table for their family. Obama introduced fact after fact after fact that night. He stated all the positive things that have happened while he had his time in office. He noted that America was number one in oil and gas, number one in wind power, and that every three weeks, America brought in as much solar power as they did in all of 2008. Americans should now be saving about $750 at the pump, which could be used to pay for child care or food.
Obama stressed the importance of education. He stressed that American students now have the highest math and reading scores on record, that the high school graduation rate in America is at an all-time high, and that more Americans are finishing college than ever before. He proposed a plan to make two years of community college "as free and as universal as high school is today." This stirred up different emotions. Some people think that this is not a good idea because it may lead to some higher taxes. However, this would be amazing for students. Many people don't have the money to attend college and don't want to pay a huge amount of student loans.
When asked about his opinion on this topic, government teacher Mr. Motley excitedly noted that "…he (Obama) mentioned the significant importance of our nation providing a better education with the free college plan. That is a major deal!" Obama even went as far as saying that for the people with current student loads, they will try to make monthly payments smaller.
Obama noted that this was the fasted economic growth America has had in a decade.  He celebrated the fact that in one year, ten million uninsured Americans finally got health care, which has its lowest inflation in more than 50 years, and since he took office, deficits cut by two-thirds and we now have a stock market that has more than doubled. It seems that Obama has done an amazing job as president.
In fact, government teacher Mr. Walsh agrees with this statement. "He has been a quite effective president. He did have to work a divided Congress but he got a lot done. He proposed Obamacare. He has prosecuted war in Afghanistan and took troops out of Iraq. He is really making the economy move in the right direction."
However, some other people don't have the same view of Obama. Senior Richard Lam, a Republican, is quoted as saying, "I think he didn't help at all because what he proposes won't help anyone. He is a socialist and America is Capitalist. It's almost as if we're going back in time. It's not useful."
Obama said so many important things that night and this article does his speech no justice. It's something you simply must watch to understand the beauty behind. Obama had a few amazing quotes that night. My mother's favorite was when Obama said "If you truly believe you can work full time and support a family on less than $15,000 a year, try it!" Veterans loved when he said "If you want someone who will get the job done, and done right, hire a veteran!" And of course we cannot forget the unscripted genius comment Obama made when the Republicans clapped after he said "I have no more campaigns to run…" His witty response had the younger generation shocked but amazed. "…I know 'cause I won both of them." Then the crowd and the internet went wild. Junior Osmir Diaz said that it was one of the most memorable things that he said simply because "It was unscripted and it definitely was expected. He literally put the Republicans in their place with that comment."
It was a night stacked with fact and emotion and sass. "It was such a powerful speech. It was a very bold statement on the Democratic power and how far they have gone and how much they have grown," stated Osmir. "It was fascinating for a second term third year president to give that speech. It unleashed such leadership. Truly fascinating," gushed Mr. Walsh.  "He mentioned so many significant issues. It was a brilliant speech," Mr. Motley said, "He has been a very effective president."