Coffee House: A Chance to Show Your Talents
Annual Coffee House Entertains
Coffee House is an annual event at Falls Church High School, where students have a chance to perform and show their talents. This year, it took place on April 11. It was held to support Ad Infinitum, the FCHS Literary Magazine, and was sponsored by Mrs. Jan Napoliello.
Even before the show started, the atmosphere in the Little Theatre was very cozy and friendly, with live music, delicious cakes and pies along with tea and coffee. Junyoung Heo (12) and Yuyu Tsoi (12) were playing the piano, and members of The National Honor Society helped organize the food part. Students were chatting with their friends, drinking coffee and getting excited for the start of the show.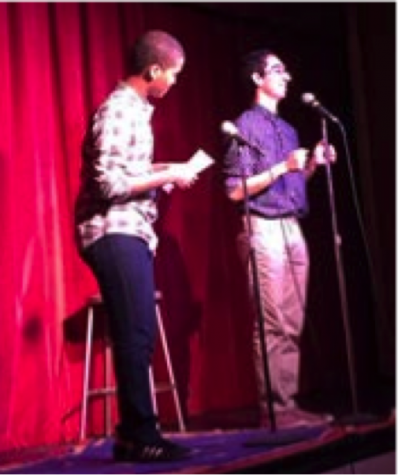 Angelo Morales (12) and Gulet Isse (10) started the show with opening remarks. Their sense of humor kept everyone smiling during the whole night. The audeince heard a lot of beautiful songs during the first half of the show: Jo-Vivian Yu (10) sang "How to Save a Life" by The Fray, Nono Sese (10) sang "Secret Admirer", Rachel Williams (11) sang "T-Shirts" by Birdy and Dan Wilson, and Colin Ngo (12) sang "Hallelujah" by Leonard Cohen, accompanied by Alan Terrazas (12) playing guitar.
Preethi Chaudry (12) sang "Forever Young" by Alphaville and played piano. All performers impressed the audience with their wonderful voices. John Moses (11) read a poem "The Genius of the Crowd" by Charles Bukowski, and Steven Barba (12) read "The Pig" by Roald Dahl. Max Olarinde (9) read his own original poem about America, which was very patriotic and passionate.
The last act of the first half of the show was the band comprised of Brett Davey (11), and some of his non-FCHS friends, Lucas Makinen, Katie Colo, Daniel Berry, and Maddy Dooley playing "Canzona per Sonare no. 2" by Giovanni Gabrieli.
The second part of the show started off with a funny skit, "Who's on First?" performed by Gulet Isse (10) and Mr. Mahan, which made the audience laugh out loud. The following act was Max Warasila (12) playing "Ace of Me" by Jon Schmidt on the piano.
Lucy Nguyen  (12) read her original poem "Who Are You?" about the father who passed away when the girl was very young. Alan Terrazas (12) read "The Crickets have Arthritis" by Shane Koyczan, and Angelo Morales (12) read "Move, Pen, Move" by Shane Koyczan. The show ended with closing remarks and a couple of jokes by the MCs, Gulet and Angelo.
Coffee Couse 2015 was a great experience for both performers and the audience. The show gave students a chance to show their talents and express themselves through music and poetry.