Falls Church Sports Year in Review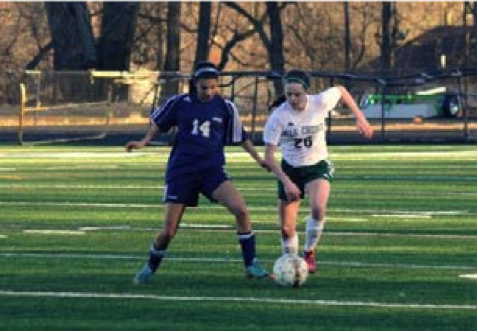 Overall the Falls Church athletics program had a great year entertaining thousands and fueling the spirit of Falls Church students and administration. Now that the year is wrapping up it seems fair to recognize the athletes, managers, and coaches who together make up Falls Church athletics.
Mr. Pete Novgrod, coach of varsity gymnastics listed off these achievements and of the gymnastics program: "The Lady Jags finished 7th in the conference this year. This season we got All-Around performances from Nithya Chaudhari (9) and Annie Sullivan (12) (Captain). Autumn Clouse (12) performed on Bars, Beam and Floor Kendra Stansel (12) (Captain) performed on the Floor and Beam, Madalena Mota (11) (Captain), performed on Vault, Beam and Floor Scarleht Sanchez-Villeda (11), Deanna Rondal (9) and Milenia Rojas (10) performed on Beam, Jhoselin Garcia (9) performed on Floor, and Whitney Poole (9) performed on Vault.  To our seniors Annie Sullivan, Autumn Clouse and Kendra Stansel we wish you the best in all your future endeavors, we are really going to miss you next year."
Sophia Omar (10), captain of girls varsity lacrosse and girls varsity field hockey had this to say about the two seasons: "The 2015 season for FC girls lacrosse has been one to remember! Since the beginning of the season we have worked hard to play well as a team both on and off the field, now our hard work is paying off.  Overall we placed 3rd in the conference then stomped Stuart in the first playoff game to give us a spot in the next round of the tournament."
Coach Mr. Craig Oliver shared this about the Lady Jags with us: "The Falls Church HS girls lacrosse program had another successful season in 2015. Both its varsity and junior varsity teams played challenging schedules and continued to develop as the season progressed. The JV team finished well and had strong showings throughout the year. The varsity Lady Jags took on some of the traditional lacrosse powers and recorded five conference wins against two losses. The Jags finished the regular season as the third ranked team within Conference 13. This is the second straight year the Jags have finished third overall within our eight team conference.
"The Lady Jags placed two players on the Conference First team, Amy Rock (12) and Sophia Omar (10) and was represented by three girls on the Conference Second team: Cami Goold (12), Veronica Llamas (12) and Olivia Rodgers (9). Honorable Mention honors went to Connie Vuong (11), Addie DiScipio (10), and Bailey Senyitko (12)."
Mr. Frank Werman, coach of the varsity baseball team, stated this about the ups and downs of the 2015 season: "The Varsity Baseball team had a tough season only winning four of 20 games. However the future is bright. There were six freshmen on the varsity this year and four of them played prominent roles. There were another six freshmen on junior varsity and they will contribute next year. Sophomore Ryan Haynes (10) was a starter as a freshman last year and was one of the top players this year. Next year Ryan will be the number one pitcher and shortstop as this team continues to improve.  Look for big things from the Jags the next three years."
Mr. Said Aziz, the coach of varsity Football, fired off this list of achievements for the
2015 season: "The 2014 varsity football team continued the success that started during the 2013 season. The Jags finished the season 7-4, and losing in the first round of the playoffs. The Jags started the season 4-0 with wins over Annandale and Yorktown, and also a homecoming win over Edison [by a score of] 49-6. The Jaguars defeated J.E.B. Stuart in the annual Bell Game for the third year in a row, and locked in the 6 seed
in the 5A playoffs. Senior WR/DB William Mejia was named the 2014 Northern Virginia Football player of the year."
Mr. Ryan Kenna, the coach of girls varsity tennis, boasted these accomplishments of the 2015 season: "The Girls Tennis Team finished in 4th place in the conference with 4 wins. Jennifer Vorachack (12), Sabrina Tran (10), and Linda Maldonado (12) led the team to their first top 4 finish in 3 years. Janna Shakir (12) was elected as 2nd Team all-district for #6 singles. Congratulations to a great season ladies!"