Girls' Varsity Gymnastics Springs into the Season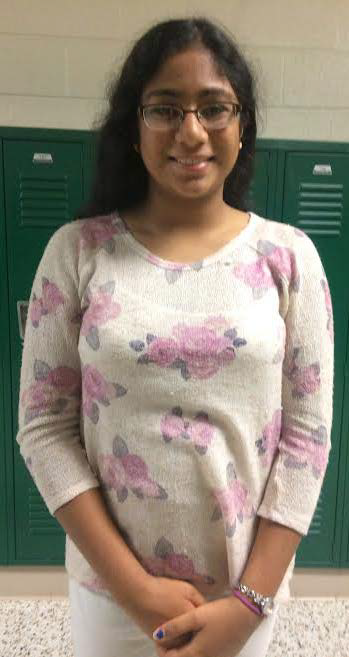 The small, yet talented Girls Varsity
Gymnastics team offers competitive and thrilling
experiences involving the performance of exercises
requiring strength and flexibility during
the winter. Meetings are typically on Wednesday
and practice lasts about three hours, four days a
week. The team is now able to have home meets
because they can get equipment shipped over.
They work with four pieces of equipment: the
beam, the bar, the floor, and the vault, and wear
flattering ¾-sleeve green leotards with small
rhinestones while doing it.
Nithya Chaudhari (11) spoke words
of wisdom encouraging girls to join the team,
touching on a variety of the potential concerns
people might have about participating in gymnastics.
She says, "Don't be afraid to join just
because you're not flexible, or because you don't
know the skills already; everyone starts somewhere."
Many people are concerned that they
have to have a certain body type to be able to
participate in gymnastics. Not, so says Nithya:
"You don't have to be thin to participate. I've
seen some talented gymnasts who aren't stick
thin. Coach Pete always told me that there needs
to be food in your body for you to have energy to
do gymnastics. When you compete, people will
be judging your skills, not your body. I do great
things, you don't have to look a certain way. You
get used to people watching you."
Some people worry about injuries in
gymnastics, but again, Nithya, one of the most
experienced gymnasts on the team, says not to
worry about this either. "It feels good to take on
challenges even though you know about the potential injuries. Although it may seem scary
at first, you've got to take the risk, because
any sport can be dangerous. You learn how
to avoid them and that they're more fun than
scary. The beam is always scary, but it's thrilling
to know that even though it's dangerous
you'll able to do it, which gives you a feeling
of accomplishment."
Nithya really enjoys being a member of
the team. From her years of experience, she
knows that hard work can pay off, and that
participating in gymnastics will give you a
feeling no other sport can. She says, "I like
to do crazy things; I like to be different. You
have to try hard because if you don't, there's
no point of you being there anyway. It's new
at first but you get the hang of things and you
realize that being in a leotard is not so bad. It
represents what you love to do. In gymnastics
you feel what it's like to fly. You see it and you
think it's impossible, but you work for it, and
it's there."
The Girls' Varsity Gymnastics team is
a place where you can have fun while learning
new skills, meet friends, and gain confidence
and discipline along with body awareness and
strength. The team is dedicated to providing a
safe, fun, and positive learning environment
for its participants, while instilling life values
through the sport of gymnastics. Participants
are encouraged and guided safely through
skill progressions that will enhance their
gymnastics capabilities. Athletes are provided
with training that will help instill self confidence
in their hearts as they set goals and
strive to meet their full potential.