Prom 2015: A Night with Gatsby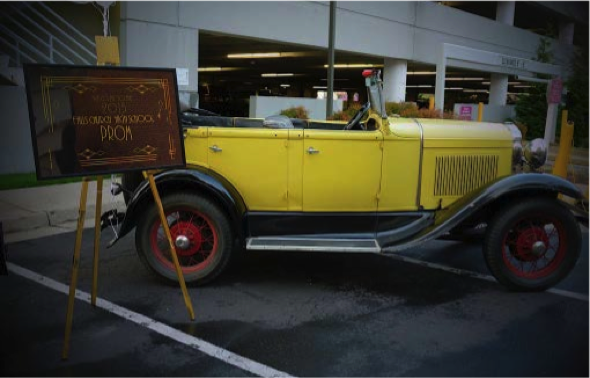 Prom is an event that many high school students remember for the rest of their lives. It is a special night, for many, because it shows that you have made it to the end of your high school career. Falls Church's prom was enjoyed by many students this year at the Crowne Plaza Hotel in Tysons Corner.
The theme for this year's prom was The Great Gatsby by F. Scott Fitzgerald, the very much-loved book that spawned two movies and many fans. One of the ballrooms at the hotel was designed in accordance with the theme for the prom venue.
"Prom was really well done thanks to our wonderful junior class. I loved the Model Ts outside of the hotel and the decorations, they made the feel and look more Gatsby-esque," said junior Madeline Harbin (11).
The venue's design was made to feel like the book and the parties thrown by its main character, Jay Gatsby. There were many balloons throughout the venue. On top of the tables there were feather settings and bright candles that helped show the Gatsby theme. There were also white tall tables that were lit up underneath with vases on top. To go along with the theme there were cars from the 1920s outside of the hotel. Students could take pictures with the cars and feel as if they were actually in the 1920s.
Prom takes countless hours of planning and organizing for it to take shape. The junior class, along with class sponsors and parent volunteers, helped plan and prepare everything for the event. They helped get the decorations for the room and organizing all of the items needed for a successful prom. Their hard work made for a great, memorable night.
Overall, prom was a success. The venue provided a great backdrop for the 1920s/Great Gatsby theme. All of the juniors and seniors that came out helped make the prom a success and gave these students a great time that they will never forget.