Falls Church Band Receives Honor Band Title Once Again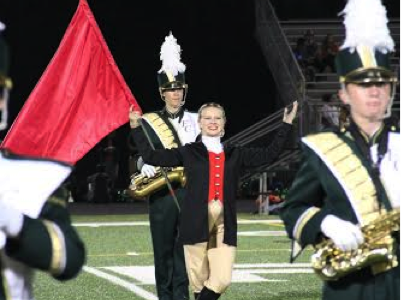 The Falls Church Band is a Virginia Honor Band once again. They received straight Superior ratings at the VBODA District 10 Marching Band Assessment last Fall, and at the VBODA District 10 Concert Band Assessment last Spring. They are looking forward to continuing the tradition in the 2015-2016 school year.
Becoming a Virginia Honor Band is a distinction that many schools strive for. In addition to Falls Church, other high schools such as Fairfax, J.E.B. Stuart, and Herndon also received the title last year. In order to become an honor band, schools must receive a Superior rating at the Marching Band and Concert Band Assessments.
Band Director Mr. Steven Jacoby is optimistic about their chances.  "So far so good, we're working hard. The marching band show is coming along, we're getting better and better every rehearsal, and we hope to keep pushing through and get another honor band this year."
Rehearsing for Districts can be a demanding endeavor, but the FCHS Band is up for the challenge. In order to be as prepared as possible, students dedicate a great deal of their time in the band room. As they say, practice makes perfect.
"The Marching Band prepares, we rehearse three times a day or three times a week, and has competition throughout the year, culminating in the assessment which is the last weekend in October," said Jacoby. "Then in Concert Band we work from September all the way to March when Assessment is, building our scales and getting better and better. January/February we really crack down, and we focus on three songs that we're going to perform at Assessment."
But what does this award really mean? Why are we so focused on receiving this title?
"It's the highest award awarded by the state, by the Virginia Band and Orchestra Directors Association, which shows that your program is performing at the highest level," said Jacoby.
There are many involved in making the upcoming Marching Band performance a success. Drum Major Brett Davey (12) and Color Guard Captain Jaci Cannon (12) are two of these people.
"I'm in charge of making sure everything that needs to get done happens, so if there's copies that need to be made of something I have to make them, I make sure rehearsals get on track whenever Mr. Jacoby's not around, and I also conduct and make sure everything stays together," said Davey.
Does he too think they can maintain their honor band status this year?
"Definitely. It all depends on how hard we're willing to work. It's entirely dependent on the people."
As far as after Assessment is over, he assures us they still have a lot to look forward to.
"In the spring we're taking a trip to Disney World and we'll be marching in a parade there," he said.
Color Guard is another important factor in making the show a success. It can add a much-needed visual aspect as well as round out the performance. As captain, Cannon knows how critical it is to have a quality Color Guard, and takes on many responsibilities to ensure this is the case for Falls Church.
"I lead sectionals when our Color Guard instructor, Ms. Ward, isn't here. I teach rookies new work, help them memorize, and I help teach drill."
Although Color Guard routines can be very difficult, Cannon assures us we shouldn't worry.
"We're actually doing pretty well. We have hard work this year, but our rookies are picking it up which is good because we have a lot of hard tosses," said Cannon. "And because Guard is unlike something you've ever tried before, it's sometimes hard to learn it, but they're picking it up pretty well."
Her only concern? Not getting a Superior this time around.
"Oh gosh, my biggest fear going into Assessment is that we're going to forget our work, or something is going to happen and we won't get a Superior. Especially after we worked so hard to get Superior last year, we just want to keep getting Honor Band."
The Concert Band Assessment will be at T.C. Williams High School on March 4th and 5th. Assessment for the Marching Band is October 31 at ______. The theme will be Les Misérables. Show your support by attending!