Bachelor of the Month: Alex Bruning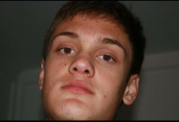 Alex Bruning (10) is a very bright bulb who shines here at Falls Church both in the classroom and on the field.  Alex is a triathlete and plays varsity golf, junior varsity basketball, and varsity baseball.  Alex has an older brother, Michael Bruning, who graduated last year in 2015, who was also a triathlete.  Alex has a dog, Ruby, who he adores very much. Alex went to Fairhill Elementary School and also went to Luther Jackson Middle School, like most of us here at Falls Church.
As a triathlete, watching and playing sports is very important to Alex.  He says, "I can't really decide my favorite sport, I really like all the ones that I play.  My definite favorite sport to watch is football because it's very exciting and it's always a tense situation at all times."  His favorite NFL team is the New York Giants.  As Alex explains, "I like the Giants because my dad grew up watching them play and obviously liked them.  They are a very exciting team to watch.  They have Odell Beckham Jr., arguably the best wide receiver in the game.  We also have the best quarterback in the league, Eli Manning, who's won two super bowls. It's just a very exciting team to watch, especially in the playoffs."
Alex's favorite place to eat here in the DMV is Cava.  Cava serves a Greek-Mediterranean type of meal.  "I get the bowl at Cava. It usually consists of lettuce, corn, cucumbers, beans, and sometimes chicken. It is magic in my mouth, literally."
Alex is a very interesting character who is very involved at Falls Church.  He participates in many extracurricular activities and still maintains a very high GPA.  Any college would be lucky enough to have Alex.  He's the next rising star at Falls Church.  Keep up the hard work Alex!