Old student, Now a New Colleague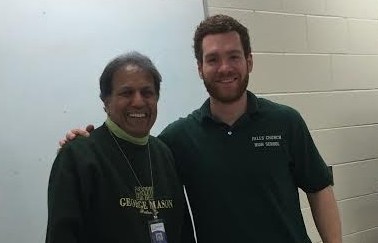 What would you look at your high school like from a teacher's perspective?  What about a student's perspective?  Well, we have an alumnus known as Mr. Healy or Coach Healy, better known as Ryan Healy during his days as a student.  Mr. Aziz, a Biology teacher here at Falls Church, had Mr. Healy as a student in his AP Biology class.  Now that they're both colleagues at this wonderful school, they sat down with me to discuss what it's like to have a former student as a current colleague.
"Mr. Healy is a great guy, a great student, and now a great colleague.  He was in my AP Bio class," says Mr. Aziz.  "Ryan was always a well-rounded character like he is today. I enjoyed him very much having him in my class."
Mr. Healy appreciated what Mr. Aziz did for him as a student.  He says, "Mr. Aziz, I'm really glad I always treated you well and how you treated me well because look at us now! We now work with each other like professionals! Important life lesson: Always  treat your teachers right!"  As you can tell, Mr. Healy and Mr. Aziz get along perfectly fine.  Having them both as my teachers last year, I can say they were definitely both great teachers and just well-rounded individuals to this day.
"As the building itself, Falls Church still hasn't changed much at all," says Mr. Aziz.  "You still see the same structure, but some others have changed. The stuff that's changed is like bathrooms, desks and other materials like that.
"The biggest change overall is definitely the technology. The technology is crazy how nice it is and how precise all of it is. We all get computers, smartboards, and other updated, refreshed resources that will help the education of the students," says Mr. Aziz.
"I totally agree with him. I remember the overhead projectors that we used to have and now we have smartboards. It really is crazy how times changed with this," says Mr. Healy.
Times really have changed all around us over the years.  But one thing that hasn't changed is the strong feeling of mutual respect between Mr. Aziz and Mr. Healy, even as the nature of their relationship within the school has evolved.  It is always a great story to hear just like this: A former student who is now a colleague of his older teacher.  What a great story that makes!