The Jagazine: The Voice of the Students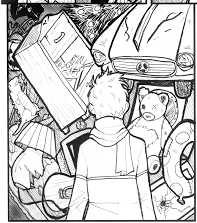 The Jagazine is perhaps one of the most unique ways that art is displayed at Falls Church. It was introduced last year as a published compilation of poems, stories, short stories, sketches, and other artwork all created by students here at Falls Church.  For many students, this is a great way for them to show off their artistic talents. While most of the content comes from the creative writing class and the poetry club, everyone is encouraged and welcomed to submit their work.
Last year's Jagazine consisted of over 200 pages and roughly 109,000 words, all made up of student-created content. There were even pages that the reader could interact with, such as choose-your-own-adventure type stories and create-your-own captions for illustrations. Throughout the book, drawings ranging from raw sketches to fully detailed illustrations are featured and accompany the writing nicely. One unique form of literature that is found in the book is the short but powerful two sentence thriller. These short stories consist of just two sentences that give the reader just enough for a quick thrill but still leave them in suspense. Another form of short but creative storytelling featured in the Jagazine is the six-word memoir. With the six-word memoir, many writers choose to talk about anything ranging from a specific moment in their life to a fully written biography explained in just six words.
Throughout last year's issue, there was a playful sense of humor that was present throughout the book. It starts on the inside cover page and continues to the back cover, with humorous cartoon style illustrations of bickering aliens.
In addition to this, it also contains some more serious topics that can be very emotional for students such as the section: voices of immigrant students. This provides a detailed account from immigrant students at Falls Church of what it is like to be in a totally new and unknown place. Many of the students talk about their past experiences in other countries and how there are many great opportunities available to them now that they live in the U.S.
Mrs. Olarinde started the Jagazine last year as an opportunity for students to get their work published in a book. It started when she realized that she was getting a lot of creative and unique work through her classes and poetry clubs and wanted to share it through publication. She said that above all, the most important thing is that it allows students of all writing levels and all grades the chance to get published and show off what they can do. She also said how she just loves how anything can come in which makes the book very unique. These days with social media like Twitter and Facebook, electronic publication is very common and available, but the Jagazine allows students the unique opportunity to get an actual physical publication in a book. This is very meaningful for a lot of students because years from now they can show people their pages in the book, rather than a tweet or a post online.
The Jagazine is also another way of giving the students a voice and helping them be heard through publication. Many clubs and organizations are very exclusive these days, and the Jagazine is one thing that is truly open and available to anyone. It's very important to many young writers because it can spark creativity, give them confidence, and validate and honor the effort.
This year, Mrs. Olarinde plans to cast a wider net of who is included. She has encouraged the pod and ESOL students to participate, because they are needed in order to represent what our school is about.
In order to give students a preview of what kind of art is included in the Jagazine, Mrs. Olarinde plans to hold a showcase where students recite poetry and share their work. The event is scheduled for May 25 and will be free for anyone to attend so that everyone has access.
Anyone of any grade level or writing level is welcome to submit their work to be featured in the Jagazine either in person to Mrs. Olarinde or electronically via a google doc.