Car of the Month: 2004 Nicco German's Ford F-150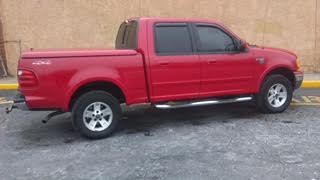 Nicco German (12) has a red 2004 Ford F-150. He has had his car for four months now. Nicco is a transfer student who went to Bishop O'Connell his freshman year and Robinson Secondary School for his sophomore and junior years. Nicco is a very intelligent student and a very talented athlete. He is also a member of the Varsity baseball team here at Falls Church.
"My Ford is like the coolest car I could ever have.," Nicco says.  "It was one of my favorite cars growing up and now that I could have it as one of my own, it's really cool."
Nicco's Ford F-150 has seats for five which could help give family or friends a ride to anywhere they wish to go. "I love giving people a ride home or wherever they wish that's reasonable. It's just what I like to do. I like helping people out so much. I guess it kind of rolls with me: I want to be a firefighter who helps people in dangerous situations so I think that's why I like helping people.  My car is open to anyone, I really just like use this car to not just help myself, but to help others with rides.  It's also great to give my girlfriend a ride to wherever she needs to go."
Nicco's truck is sort of like a storage facility on wheels for him.  He says, "I put everything in my car.  I usually tend to put my baseball stuff in there overnight and other stuff that needs to go to school so I don't forget."
Nicco sounds like a very organized student. "This makes me very organized for my extracurricular activities and my academics in school."
Nicco leads a very busy life, and having a truck as useful and reliable as his makes life a bit easier for him, getting him and friends to school, as well as providing transportation for other stuff like sports or hanging out with friends.  Nicco can definitely confirm what Ford ads suggest: that the F-150 was built tough enough to do almost anything.