Club of the Month: Bike Club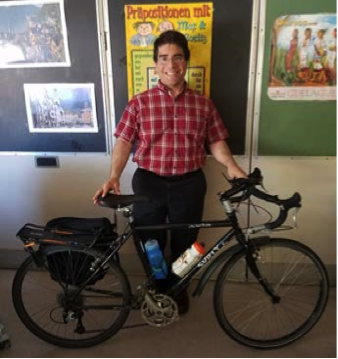 The Jagwire's club of the month is the Bike Club. This club is sponsored by Spanish and German Teacher Mr. Zlatnik. Mr. Zlatnik is big fan of bikes and is an active biker himself. Mr. Zlatnik says, "Bikes are a great way to get around and are a lot of fun. I bike to school every day." The bike club is a result of a partnership between the school club and a bike shop called Arlington Phoenix Bikes. Formally, Fairfax County forbids allowing bike riding as a club or school activity, but Zlatnik gained permission to organize local rides as a volunteer with Phoenix Bikes. They have ridden at some local forest trails, to Reston and once as far as Herndon.
Their main goal and activity is the "Earn a Bike Program." Students in the club can earn a free bike by participating in all of the activities they have for at least 25 hours. All the activities include fixing bikes that they sell or donate and occasionally, repairing bikes for teachers at the school. During the 25 hours, an "earn a bike" participant should learn the basics of how to repair a bicycle. When a student does all the activities or work needed to earn a bike, they get a free bike, a bike lock, and a helmet if they need one. If students already have bikes that need fixing, they are welcome to stop by Mr. Zlatnik's class after school to get help in fixing their own bikes.
Another cool thing about the club is if you are one of the students who completes the "earn a bike" program, you can participate in Phoenix Bikes activities. They have a great cyclocross racing team and often do a camping trip in the summer and local rides every Saturday into DC that you can be a part of.