After a franchise winning season, the Spurs get knocked out in the second round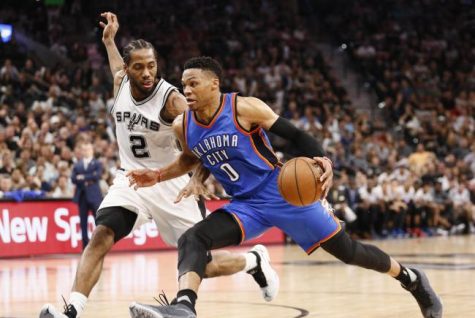 The San Antonio Spurs had a franchise best 67 win regular season. With the acquisition of Lamarcus Aldridge in the off season to an already championship contender, they were poised to be in the fight and what many thought to be the favorites to win it all. After a dominant season and tied record of being 40-1 at home, this all looked to be true. A strong sweep against an injury riddled Memphis team; they were heading to the second round against the Thunder with Kevin Durant and Westbrook who are two top 5 players in my estimate. Even with those two superstars, the Spurs looked to match up well with their depth, defense (which was number 1 in the league), and of course future hall of fame coach Gregg Popovich.
Game 1 in San Antonio was an absolute destruction; it looked as if the Spurs would not miss and won by 32 in a convincing fashion. The series completely changed after that, with the Thunder looking deeper, better, and superior coaching. The Spurs only won 1 more game after game 1 and the Thunder won the series 4-2. San Antonio fans wonder, what in the world happened, our best season ever and we look and played like the worse team.
The Spurs bench played absolutely horrific, with Mills, Ginobili, and Diaw looking absolutely lost. Boris Diaw even got a DNP in the final game, not even playing a minute. David West played decent but was too small. Thunder's big men were too big and seemed to get every rebound. Gregg Popovich deserves blame as well with a terrible rotation, West and Diaw played together often who are both under 6'11' against two seven footers in Enes Kanter and Steven Adams, which hurt them big time. The Thunder deserve credit as well, not only did their typical starts show up, Steven Adams, Enes Kanter, and Dion Waiters played fantastic and surprisingly outplayed the Spurs Bench. Tony Parker was gassed as the series went on, the pace was too much.
Spurs should be encouraged by this season though. Free agency will be key and they need an upgrade at guard badly and a formidable center. They have a growing superstar in Kawhi Leonard and a Lamarcus who fit at the perfect time.