Check Out these Must-Try Local Restaurants
Granddaddy's Skillet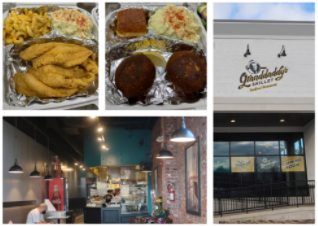 Location: 6544 Little River Turnpike, Alexandria, VA 22312
Must-try item: Grandma Beulah's Salmon Cakes (a Thursday special)
Granddaddy's Skillet is a soul food restaurant with a menu that has something for everyone. They specialize in fish, but the menu also includes other meats like pork chops, ham, and chicken wings. For non-meat eaters, there's a vegan or vegetarian special every day. The daily special varies from Veggie Chili, Roasted Vegetable Medley, to a Kale Quinoa Bowl. Every meal comes with a side and a choice of bread. Granddaddy's Skillet offers takeout and has limited seating due to the pandemic.
Loopy's Eatery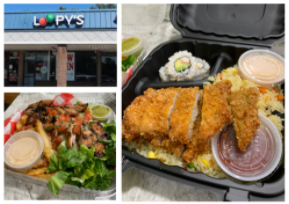 Location: 6920-H Bradlick Shopping Center, Annandale, Virginia 22003
Must-try item: Donkatsu
Loopy's Eatery is a family owned and operated restaurant that takes a twist on traditional Korean cuisine. Their menu offers fusion food like the Bulgogi Cheesesteak and French Fry Bowl. Most of the menu contains meat, but they have fried tofu as a protein option for entrees like the French Fry Bowl, Bim Bop Bowl, and Fusion Tacos. Loopy's has both a travelling food truck and non-moving restaurant, but the truck is not currently operating. Customers can order takeout, curbside pickup, or delivery within a five mile radius.
Huong Binh Bakery and Deli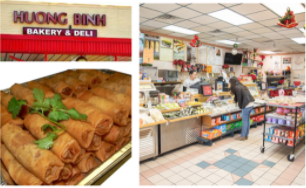 Location: 6781 Wilson Blvd, Falls Church, VA 22044 (in Eden Center)
Must-try item: Chả giò (eggrolls)
Huong Binh is an authentic Vietnamese bakery and deli. They specialize in party platters and catering. Their platters have both main courses and sides, and they have vegetarian versions of their meaty food. Huong Binh also serves non-platter items like Bánh mì (Vietnamese sandwiches) and desserts like Xôi (sweet sticky rice) and Flan. Huong Binh offers takeout, and some of their items can be delivered through Grubhub. 
Lei'd Poke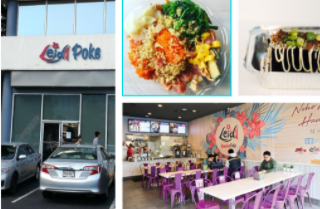 Lei'd Poke
Location: 8032 Leesburg Pike Suite D, Vienna, VA 22182
Must-try item: Brûlée Musubi
Lei'd is a Hawaiian poke restaurant located in Tyson's. Their poke bowls are fresh, filling, and easily customizable with their many toppings. Their protein options include raw salmon and tuna, and they also offer shrimp and tofu for those who don't eat raw fish. Lei'd changes their menu, offering seasonal items and new sides like the bento box and Brûlée Musubi that were introduced this spring. Customers can order takeout; pickup; or delivery through DoorDash, Uber Eats, or Postmates.