The History and Tradition of Gingerbread Houses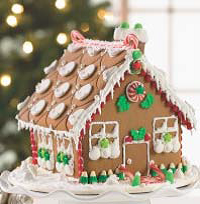 Gingerbread men and gingerbread houses are a big part of getting in the holiday spirit. "Run, run, fast as you can, you can't catch me, I'm the gingerbread man," are the classic lines of the fairy tale The Gingerbread Man. Whether we buy the gingerbread house kits or make them from scratch, gingerbread is a great way to get into the holiday spirit.
As you may assume, ginger is the most important ingredient in gingerbread. Ginger was first used in China for medical treatments. Today, ginger is still used to help nausea and other stomach ailments. During the Middle Ages ginger was used to disguise the bad taste of preserved meat. King Henry VIII even tried to use ginger as a treatment for the plague.
Many of us do not realize gingerbread recipes have been around since 2400 BCE in Greece. By the late Middle Ages, gingerbread had spread to most European countries. When it spread to other countries, gingerbread transformed into many different shapes. Queen Elizabeth is thought to be the one who started making gingerbread into these different shapes. These cookies became popular at Medieval fairs in some countries like England, France, Holland, and Germany. Throughout the years the gingerbread cookies became ever more popular, so these festivals became known as Gingerbread Fairs.
Gingerbread is thought to only be eaten during the holidays, but it was sold year round. For example, in the spring, it was shaped into flowers and in the fall, it was shaped into birds. England was the first to elaborately decorate gingerbread cookies including writing the popular expression, "to take the gilt off of gingerbread," on a gold leaf.
The idea of gingerbread and holidays finally came to Germany in the sixteenth century. This is where gingerbread houses became popular and associated with Christmas. When Hansel and Gretel, a Brothers Grimm story about two children who find a house completely made of candy became very popular, so did gingerbread houses.
The story of gingerbread is an unusual one, but now it has become synonymous with Christmas!