FCHS Knitting Club: Giving Back to the Community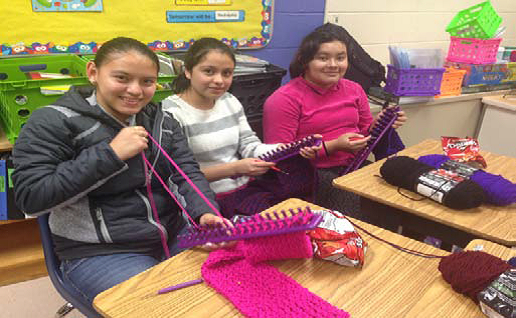 When it comes to giving back to the community, the Knitting Club does it in a warm, fuzzy, and colorful way. Ms. Zeballos started this club with one simple mission: to give back to the community in a fun way that everyone enjoys. "The students that participate in this program are usually students who just moved from different countries. Most of these students don't speak English very well. But you don't necessarily need to speak English to give back to the community. This is pretty much their way to say 'Thank you' to the community for giving them a fresh start in a new country," Ms. Zeballos says.
The students who participate pay a small fee to join the club. With that, they buy yarn and supplies. As Ms. Zeballos says, "The students knit scarves for the homeless. They also knit a scarf for themselves as a reward and a chance to show off their work. We send these scarves to a shelter so that the less fortunate are able to stay a little warmer in the cold winter months."
The Knitting Club has received multiple donations helping them make this mission a success. If you would like to join the Knitting Club in their mission to knit scarves, please go see Ms. Zeballos in room 214 for more information on how to donate, join, or help out. The club usually meets on Wednesdays until 4 p.m.