International Music Profile: French Music
In last two issues of the Jagwire, we featured two articles about both K-pop and Spanish music. Many FCHS fans here all have their own playlist with their own distinctive styles in music, though majority of them featured American artists which made it even more difficult to scout ones that don't. FCHS has a wide range of languages due to the diversity in the student population which results in a diverse range of music. The fact that students are able to learn more and more languages gives the opportunity for students to learn more about their culture and music that people produce there.
Artists in France all have their own distinctive style in music. Their compositions, their lyrics, their beats, all show the originality in their music. For example, pop in France may not be the same as pop in America or pop in Korea. Some parts of Africa speak French as well, but their music is nothing like the music in France. Whether the song is upbeat or has a slow melody, each artist shows and represents their own music in their own style. The variation of music and styles are as if they are all in one genre.
One excited fan here at FCHS was glad enough to do an interview for the Jaqwire newspaper. Afaf Kabbaj (10) is a woman with many unique languages. She's been listening to French music "all my life since I grew up speaking French."  Part of the reasons why she started listening to French music was because she "likes their voices," thinks "their music is catchy," and because "they're cute."  She had a unique way of putting her reason of why she liked listening to French music as she told me, "I like French music because it sounds fancy, it makes me travel to some other world that only French people would understand."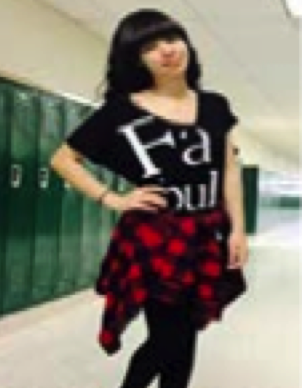 Further into the interview we started to talk about singers/artists that Afaf would recommend and she chose, La Fouine, Sexion d'assaut, and Kendji. It took a while for her to choose her favorite song from each of these artists but in the end, she chose "La Fouine's Quand Je Partial, Sexion d'assaut's Avan qu'elle parte, and Kendji's Andalouse." When it came down to differences between mainstream American and French music, she said, "French music uses serialism, electronic music, and leotard technique, as well as oriental and other non-western mode. Unlike American music that has its roots in folk music, spiritual music, and jazz. French music is French and from France and American music is usually sung in English and from the USA."
Afaf concluded by saying, "I totally recommend people to listen to this kind of music because I'm pretty sure that it's much more different from what they usually listen and sometimes, different is better."